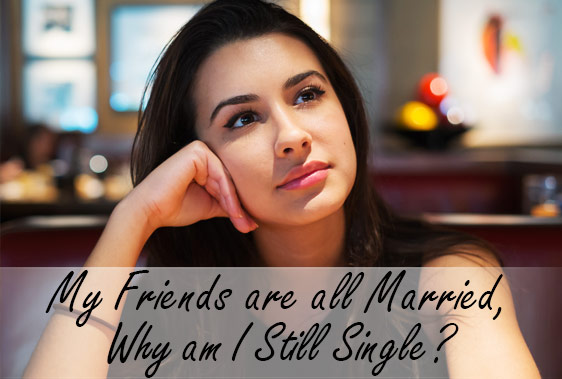 Why is anyone single? If you've reached a certain age, you might be asking yourself "why are my friends all married while I'm still single?" This question can lead to feelings of inadequacy, concern, and sometimes even depression. Why are you single?
We can't answer this question for every person, but there are a few key reasons why you might be lagging behind your friends in terms of getting married.
1) You haven't been trying to find a partner!
Society paints a rosy picture of perfectly compatible people crossing paths, from Bollywood to Hollywood. Reality is much more complicated. With modern society creating so many different pressures on the individual, you may have been so busy with work or studies that you've neglected to form relationships that could lead to a long, happy partnership.Given that the average adult is very hard-pressed for time, more and more USA singles are turning to matchmaking sites like Shadi.com. Shadi® is a marriage site that allows you to find singles that share your background and common goals, taking the guesswork out of dating and helping you get straight to the point. In fact, 1 out of every 3 relationships begins online, and that number is expected to grow.
2) You aren't ready to settle down!
It can be obvious to even the best marriage prospects if you aren't ready to settle down. Not settling down can take several forms. For example, you may be unwilling to sacrifice any part of your career aspirations for a partner. Or, you may enjoy flirting with a wide variety of people, or "playing the field." Any of these attributes makes you less likely to be married at your age .Arranged marriages site
3) You haven't grown up!
This point is very harsh, but when it comes to delaying marriage, it's entirely possible that you haven't grown up. Look inside yourself and ask, "Am I mature enough to resolve arguments? Do I have set goals in life? Have I given up partying?" If the answer to any of those is "no," you may not be mature enough for marriage. Is this the reason I'm single?
Maturity comes with being willing to sacrifice some small parts of you for the good of a relationship. It also comes from taking the high road in arguments and listening to others, concerns. trusted matrimonial sites
Shadi® can't help with every reason you aren't married, but we can help you find partners that you're likely to connect with. Join many USA singles on the largest Indian matrimony site and discover partners that are willing to help you settle down today!