8 Top Honeymoon Destinations in the US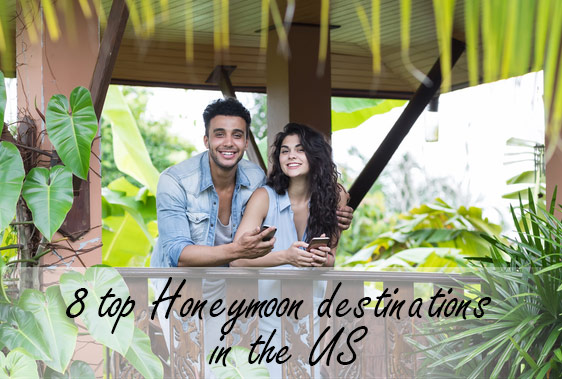 Honeymoon is the golden period of any couple. Like wedding planning is a strenuous task for the couple, so is planning for the honeymoon.The US has been a favorite honeymoon destination for most couples especially Asian couples. Once you have picked a destination, you can search for all the tourist attractions and enjoy it.Shadi Muslim marriage site
We have covered the top 8 honeymoon destinations for you below:
1. Cannon Beach- Oregon
Cannon beach which is situated along the Oregon coast, is considered to be the best romantic destination and is ideal for newlywed couples. Picturesque beaches and tide pools will take your breath away. If you are a picnic person, you can have enough spots to explore nature and have a break for yourself.
2. Savannah- Georgia
If you like exploring history, Savannah is your place. The atmosphere of the city is very slow and laid back, which helps you run away from the hustle and bustle of city life. Dolphins are the main attraction of this city. You can always head to the magical dolphin tours to have an interacting experience with them.Shadi Hindu matrimonial
3. Lake Tahoe- California
Lake Tahoe offers you some of the most beautiful natural views in America. You can experience clear blue waters, the cliffs, and the mountains in just one boat ride. Although beaches are enough of a reason for a vacation, you can even enjoy hiking in the mountains during the winter.
4. Napa Valley- California
If you have a fine taste for wine, then Napa Valley it is. You can spend your days walking in the vineyards, holding hands, and enjoying the wine. This city not only gives you wine but is also home to world-class spas and unlimited food options to eat from. Napa Valley has always been famous for some of the best Indian spas in the area.
5. Havasupai- Arizona
Beaches and forests can be a favorite spot for a lot of couples. But so are the outdoors of Arizona. You might not find luxurious hotels in Arizona, but it is definitely your go-to location for jaw-dropping sceneries and waterfalls.
6. Sedona- Arizona
Sedona is another location that has been very popular amongst the newlyweds especially for couples who love nature. Arizona is one of the locations with ideal weather throughout the year. The destination offers outdoor activities such as hiking through trails of red rocks and jeep tours.
7. Malibu- California
Malibu was a small town that was actually made for the newlyweds. A possibility is, you might sight a lot of famous personalities here. From wine tasting to horse rides and the beautiful palm trees, no wonder Malibu is the first choice for honeymooners.Best Indian matrimony
8. Honolulu- Hawaii
Honolulu is magical and you need no extra efforts to make it romantic. Be it standing in the rain forest in the middle of a waterfall or walking on the white sand beach, Honolulu has various natural options to offer.8 top honeymoon destinations in the US