What women want in their life partner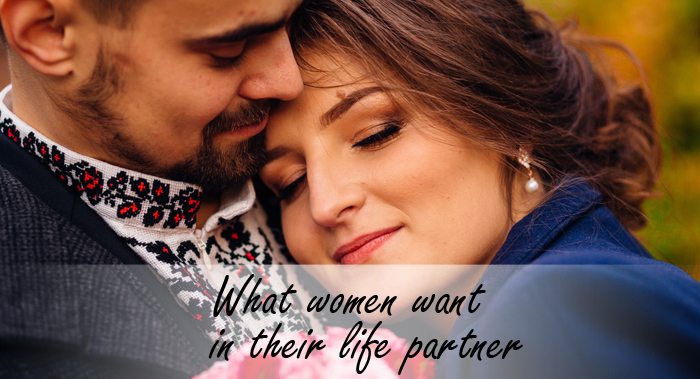 Women were surveyed by Shadi.com about qualities women want in their prospective life partners. The results of the online polling showed the majority of women want a life partner who is financially stable and compatible. According to surveys, women preferred certain qualities more than looks. A tall handsome man is more attractive to some women but over a period they start realizing about qualities of a husband material vs boyfriend. While there is nothing with having a strong handsome man to be with, the long term depends on the points below.What women want in their life partner.

Here are the qualities of an ideal man in the eyes of a woman by our survey.
 He's smart and intelligent
Women want a man who is intelligent and smart. Intelligent men tend to be more trustworthy and loyal in relationships. A smart man believes more in the institution of marriage and adheres to it. Intelligent men are quick thinkers and can solve problems fast. They are more faithful as they have the capability of thinking of long term goals. They don't fall easily in short-lived temptations which can have drastic effects on their relationship. He avoids short flings as he is afraid to lose his partner.
2. He should be her best friend
Women want their husbands to be their best friend. Friendship is really important in a long-lasting relationship. Her partner in life should be able to share anything important that happens in life. Good partners try not to be controlling and refrain from judgmental behaviors. The best way forward is to respect each other's views and decisions. Matchmaking
3. He respects and appreciates his life partner
Most women want men to respect them and value their opinions. Men should be careful with the tone of voice and choice words. This has to do with the culture and movies were treating a woman badly is the macho thing for some men. Appreciation was big on answers to the survey. Nothing will kill a relationship other than the feeling of being taken for granted. Showing appreciation for little things helps to strengthen the bond of relationship with your partner. He should show appreciation for the things the wife does for her partner. By saying "Thank You" or "I am sorry" are powerful words if said at appropriate times.
4. He has patience and protects
Women want a man who treats them kindly and provides a secure stable environment. A real man knows how to deal with problems calmly. He has a clear head and does not easily get angry with his spouse and kids. His tolerance is high and that makes him stronger in dealing with negative issues. He is able to protect you both physically and emotionally. A man with a good temperament & patience is a gem for women.
5. He accepts your faults and supports
He accepts your flaws and focuses on good traits about his life partner. If something bothers him about you, he brings up the issues in a calm manner. If his life partner has a career he supports her in her goals. He stands up for her dreams and aspirations and does all he can to help his wife.
6. He has similar values as you
For any relationship to survive your partner must have compatibility of values. It's about having similar ideas about life in general. Women want a man who believes in marriage and family. Trust and dependability were important in the polling results and similar religious beliefs What women want in their life partner.Shadi
Final Thoughts :
If you are the one who is looking for the right person through our Muslim, Sikh, or Hindu matrimonial site in the USA, then this should help you as you seek a life partner. (Source Shadi matrimonial & matchmaking site).