Top 6 Mistakes Not To Make On Your profile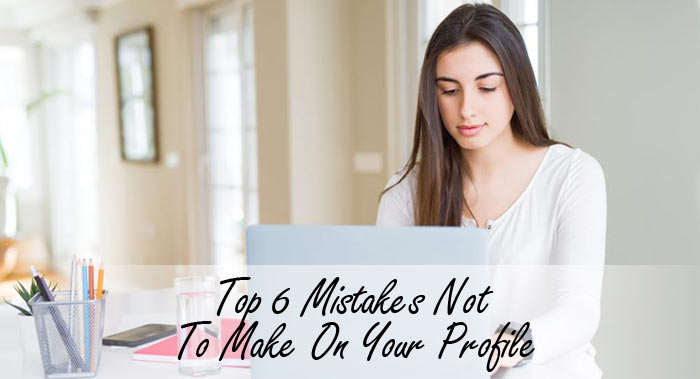 Hi! If you're thinking of creating your online profile or wondering why you're not receiving responses from your matches. You should read this. Now, remember online matchmaking is the normal way to meet like minded people. Gone are the days of stigma attached to introduction sites for the purpose of connecting people. So here is a set of tactics that can help you. USA Matchmaking
Never lie about yourself:
Being honest about yourself is the best personality trait. Feel proud of your achievements, hobbies and interests and write them on your personal profile. Telling the truth from the start shows you respect yourself and others. Your relationship will be much better when it is based on honesty. When you are committed to being truthful you reduce doubts and misunderstandings. In short, an attractive person is someone who is comfortable about themselves and has the confidence to write and express their thought process truly.
Don't give out personal information:
On an online matrimonial profile do not disclose your last name, place of work, home address or cell phone number in "About Myself Section". This section does not have privacy features and is read by strangers whom you do not know. This advice is for your own protection.
Lack of effort while creating profile:
Shadi online matchmaking is a great way to meet interesting new people but some lack effort while creating an online profile. Many times you click on a profile and read in the about myself section "Contact for more questions" or "Ask me anything" these people don't seem to care. A serious person who is looking for a life partner will at least make some effort in writing a few sentences in their own words about themselves and what they are looking for. Look for profiles that are well written and authentic. This is not the time to be shy about who you are.
Don't write about your dislikes:
You don't want to list negative things but rather share positive aspects of your personality. On several profiles you may have read "Liars and cheaters stay away" or "No drama and games" please don't write such things. Do you think anyone reading it would respond to you? In about my section share your interests and passions in life. Write about positive things In your life and stay away from bringing negative energy to your profile. You are trying to make a new relationship so start the process with good intentions Top 6 Mistakes Not to Make on Your Online Profile.
Don't talk about an ex:
It's not a good idea to bad mouth your ex. You are trying to make new connections so don't mention your past relationships. Writing about ex on your profile seems like you are not ready for a new relationship. Move on, leave your past behind and start a new chapter in your life. Life is short, make the best use of it. Shadi online matrimonial site
Don't make spelling and grammatical errors:
You want to make a good impression on your potential matches. But nothing Is more off putting than more off putting than spelling mistakes and bad grammar. Make sure your profile is error free and then you can post it. It is best to write about myself in your words and it should reflect your true personality.
Final thoughts:
Online matchmaking platforms have brought communities and people together. Meeting a significant other online has become the most popular way or the new norm. The stigma or the hesitation of meeting someone special through the internet Is the most common way. Shadi Matchmaking site has much larger pools of people who are searching for their life partner. This is a huge advantage in terms of meeting people when compared with your social circle. You must represent yourself with utmost honesty and integrity. Add a photo to your profile taken in well lit light. Don't be afraid to make the first move both ladies and gentlemen.Top 6 Mistakes Not To Make On Your profile