What single men want in their life partner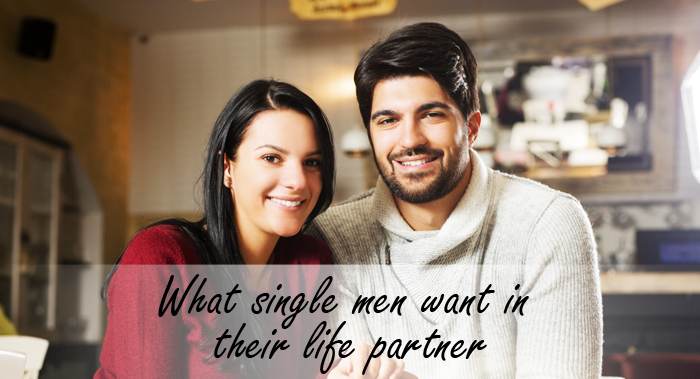 Based on a survey conducted amongst single men are looking for the following qualities in women. The results of online Shadi.com USA polling showed that the majority of single men want a life partner who is slim and who can be a good friend and have similar values. According to the survey, 80% said they preferred a career-oriented life partner. Someone he can trust in all situations of life and respects him. Below is a list of qualities most single men want to see in their life partner.
 

1. Men don't want drama queens

Men truly, madly, deeply desire drama-free women. That means drama queens only look good on TV. Period. In other words, when men are looking for wives, they aren't looking for drama queens. Instead, they are looking for respectful and inspiring women who are mature, wise, and sophisticated enough to stay married in the long run. A survey conducted by shadi.com USA shows that women who know how to manage their emotions tend to be drama-free, whereas women who allow their emotions to be out of control usually have a hard time finding a stable and healthy relationship.

 

2. Men want a reliable and respectful life partner

In the online survey, 87% of men want their life companions to be reliable. Trust is a very important aspect of any relationship. You are building a new life with someone special and growing old through good times and bad times. He wants a life partner whom he trusts with his kids and finances. A woman who is mature enough to respect him and not hold on to a grudge. To sum up, he wants someone understanding who will stand by his side. USA Singles Matrimony

 

3. Men want physical Intimacy and Appreciation

Men need to feel warmth, closeness, love and being appreciated. It not about sex all the time but small acts reassurances of being loved. Men want a relationship where they want to be appreciated and feel good about themselves. And women should realize that praise works wonders for them. As long as it is genuine and comes from the heart.

 

4. Men want freedom and space in their lives

Men want their freedom to connect with the world, to watch a game of football or cricket with their friends. Or perhaps just hang out by himself. He needs to feel free from the stress of daily life. Men don't like to be questioned all the time about "Why did you not text me" or " Where have you been?". So the secret to a long-lasting relationship is space. Women are more emotional in a relationship than men. They are not consumed with relationships as some women are. Women need to focus more on their interests and hobbies to occupy their minds and not monitor their husbands all the time. Above all, men prefer a happy and positive woman in their lives with her own interests. So don't worry, let him roam, let him spend time with electronic devices. He will return back to you in a better frame of mind.

 

Final Thoughts

Men highly value loyalty and like soft feminine women. Taking good care of your appearance and weight shows you will take good care of him and children. At the end of the day, a man wants love, appreciation, and care. He wants a life where he is appreciated for his efforts. When issues arise talk and resolve and practice forgiveness. In short, let the man take care of you and the man in your life know that you need him. Source Shadi.com Shadi Matchmaking.