For Good Relationship Give Up These Behaviors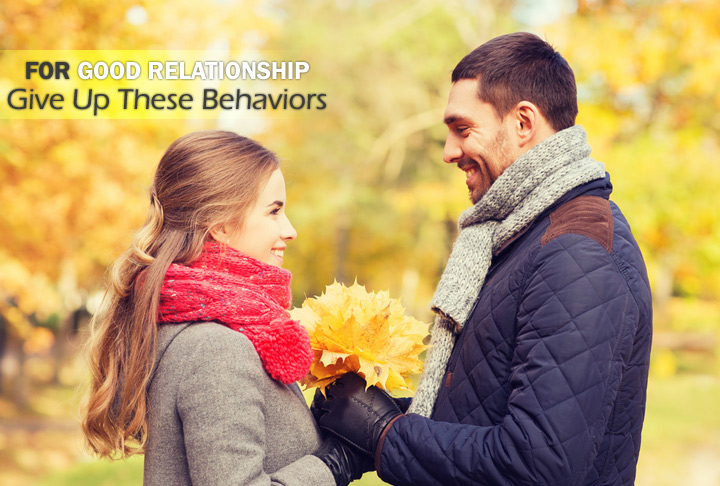 You may be looking for love or just had a break-up. The fact is that there are some criterion's that are set to have a successful and happy relationship that lasts for a long time. And sometimes, for good relationship, give up these behaviors.shadi
Stop thinking that it will not last:
Starting the relation with negative thoughts doesn't work. You will feel validated, if things don't turn out the way you want. The fact remains that if you believe that the relationship is doomed from the start, you will ensure that it does not work. This negativity has to be nipped when you enter a new relationship.
Don't play difficult:
Don't play games and act difficult if you are angry or sad. Let your partner know how you feel and find a solution. Don't be manipulative or angry and use it to intimidate the partner. Be clear, honest and try to communicate respectfully.
Don't be shallow:
Love does not last on fresh air. You need to be genuinely interested and like your partner. Love is about commitment, attachment and attraction. You have to like your partner, be friends and want to be with him/her. It is not just about physical intimacy and infatuation.
Stop being jealous:
If you think your partner cannot be trusted, why did you get into a relationship with him/her? If you are jealous of past relationships, discuss it with them. Your own insecurities should not erode your partner's self-esteem. Start trusting and believe then only then the relationship will last. If you can't then, walk away..
Don't settle for less:
Just being in a relationship isn't enough. It is not a social symbol. Don't get into a relationship with someone you cannot respect or love because I he/she does not have what you want, it is doomed to fail. Successful relationships last because both partners respect and value each other. if you are single or divorced looking for a match For Good Relationship Give Up These Behaviors