How to get married after divorce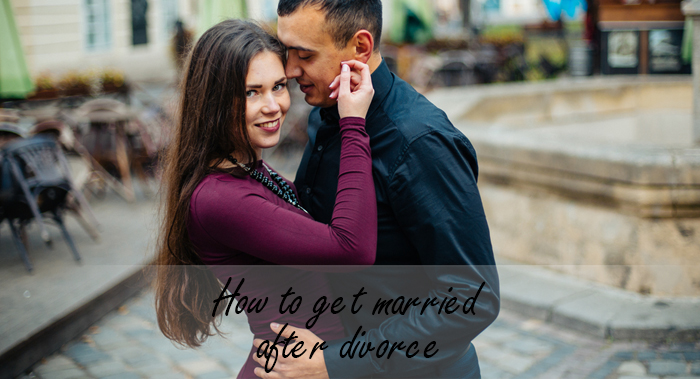 A lot of singles find it difficult to get married after a divorce. They don't know how and where to find the right person. But we all need love in our lives. It is a wonderful feeling and sometimes, it is much better the second time around. Life becomes more enjoyable with a good loving and caring life companion. Scientific research on longevity shows that married people not only live longer but have a healthier state of body and mind. Being married means someone is there looking out for you. After your divorce with the past experiences you have matured, you know what you desire most in your life. You appreciate love more and have more respect for your life partner. In short, there is more awareness in you about life, love, and relationships. These are building blocks of a new great lasting. Here are some tips on how to get married after a divorce.Shadi
Need to Move on Emotionally
Before you start thinking of a new relationship you should have no outstanding issues from your previous marriage. Losing a loved companion is not easy and it has devastating effects on your new relationship. There should be no unresolved anger or bitterness from your previous marriage. Above all, you must resolve all issues with your ex-spouse before even thinking of a new life partner. Letting go and moving on emotionally is the best strategy for you.
Use matchmaking site
Shadi.com matchmaking site for US singles has wonderful people who are educated and successful. As mentioned earlier it's a daunting task looking for a compatible life partner second time around. We have a large pool of divorced members who are seeking companionship. It's easy to register on Shadi Matrimonials. So fill out a form and tell us your choices about your life partner preferences. We would be happy to send some matches for free. And if you like your matches, upgrade yourself to premium membership to communicate further. Besides, you can browse or reach out at any time of the day.

Invest time and effort in getting to know someone.

You are looking for someone special to be your life partner, invest some time and effort. It's not something you can buy online, take your time in getting to know the person and enjoy the dating process. In other words, make time for the most important person who could be your lifelong companion. Some divorce people don't take time out because they are not used to looking for someone or dating. They don't feel the need to have stable relationships these singles are denying the happiness they deserve the second time around. Sometimes it takes longer to find a companion for some people. You would be relieved to know that couples who dated for more than a year have better relationships compared to ones who decide after meeting for shorter durations.
Learn to commit
All prosperous USA Singles Matrimony need commitment. You need to focus and give your new relationship all the attention it needs to feel good for both of you. This is what's called being mature and considerate towards your companion. Once a decision has been made, stay committed, and try to avoid unnecessary acts of irrational behavior. Being able to communicate and compromise and give your best shot for a successful relationships. It's not too hard to try and see for yourself.How to get married after divorce
Final thoughts
So take your time. And please do not rush into marriage. Get to know the new person in your life and spend time addressing all your concerns before making any commitments. Sometimes, we don't pay attention to warning signs which may complicate your life. You should discuss financial aspects, kids, family issues, and health problems if any. At the end of the day, you want to have a successful relationship once you have weeded out the issues. Try shadi matchmaking and see how easy it is to find someone special.How to get married after divorce