Steps to Strengthen Emotional Attachment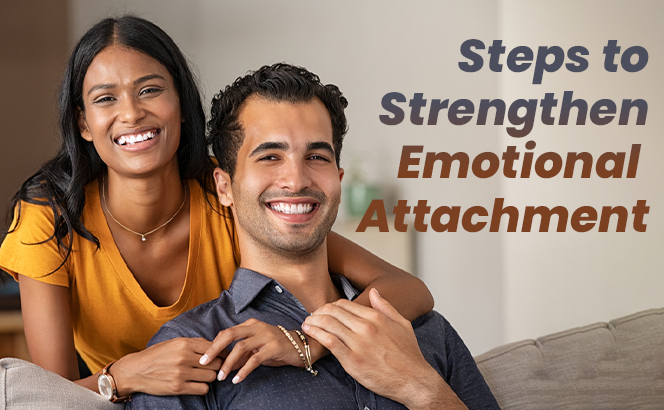 Men are naturally attracted to women who are kind, loving, and caring. Apart from sharing humor with your partner, there are other special ways of bonding with them. And for that reason, we have compiled a short and easy list of steps to strengthen emotional attachment with your significant other.
Create a safe space
Your partner should feel they can be themselves around you without being constantly criticized. In fact, they should feel comfortable and safe in your presence. This will help them stay at ease, in their zone, and grow around you. So, their emotional attachment with you will also grow over time.Shaadi
Be a great listener
Creating a safe space for your partner is not enough. You must also make them aware that you are there for them. Most importantly, you should listen to their happy stories or woes with patience and comfort them or celebrate with them. Be their friend to foster attachment. Making meaningful eye contact, showing genuine empathy, and having a positive attitude helps in building a strong bond.
Leave your comfort zone together
Certainly, you can't always remain in the monotonous comfort zone lifestyle. Explore outside the box with your significant other so you both can grow together.  New and exciting adventures and journeys together can be a bonding experience. Knowing how to enjoy the moment and not worrying too much about the future is something people appreciate.
Make the best memories
Plan a holiday, go on trip together, binge-watch movies and TV shows, and do everything that can add to your memory box. More than the experience of new adventures, it is the memories that stay for long. And, you want to stay in the good ones to be the perfect partner.
Now that you know all the steps to strengthen emotional attachment, sign up now on the world's best matchmaking website, Shadi.com, and find your best friend and lover.