7 Conversation Starters That Break the Ice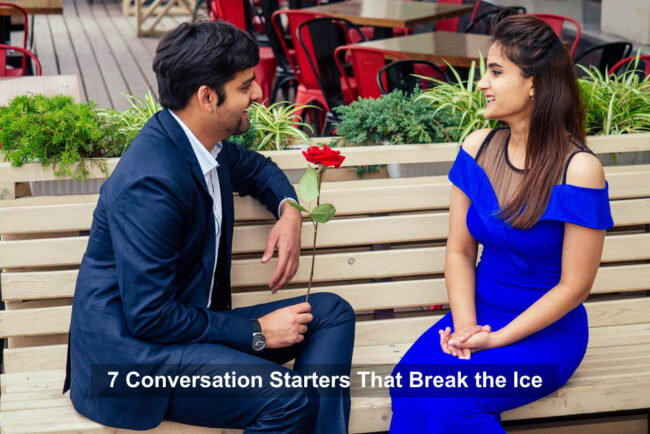 The first date can always be a bit nerve-racking. It is during this one or two-hour meeting that you will decide if you want to meet again. And that can be a daunting task. Especially considering you and your date have never met before. But don't worry! We've got you all covered. In fact, we have a list of questions you can ask your date to help you decide and to keep the conversation alive. So, if you want some conversation starters to break the ice, keep reading!
Whenever you want to have a better relationship with someone, there is one superpower skill that will help you get to know them better. That superpower skill is "asking good questions".
Fun Conversation Starters to Break the Ice
To keep your butterflies at bay while making the meeting achieve its purpose, make sure to ask real questions. This will encourage them to relax and open up. In fact, it will deepen and strengthen your relationship from the very beginning. However, you don't want it to sound like an interview. Make it fun and easy with some relevant questions. Here are 7 conversation starters that break the ice at any first meeting:
Where did you grow up?
This can be a pretty intimate question. The place of birth can give an idea about your date's background and lifestyle. For example, someone born and brought up in Dubai has a very different childhood vs someone brought up in Dublin.
What are you passionate about?
Some people are passionate about cooking and trying trendy restaurants.  Quite often, singles are passionate about their career and planning their next vacation. All in all, this question can help you really understand what your date is like and if their likes align with yours.
What's on your Wishlist?
This question can help you realize if your future plans align and if their plans excite you. It can create a great moment to bond.
What are your favourite travel destinations?
Of course, this is the best question for a first-date conversation starter. Who doesn't love travelling?  You can both fangirl about your trips to different places or travel aspirations.
What do you like doing in your spare time?
Your date might love keeping animals or watching sports. They could also be avid readers or just binge-watch Netflix all day.
Are you career-oriented?
This is a perfect way to find out your date's career aspirations and if there are any.
Are you a foodie?
If you and your date are both foodies, then you can already start planning your next date to try out different cuisines!how to start a conversation with a girl on shaadi.com
So, find a date on Shadi.com and push the nerves aside to have an exciting first meetup now that you know what to say. Good luck! 7 conversation starters that break the ice