8 Signs of a Good First Date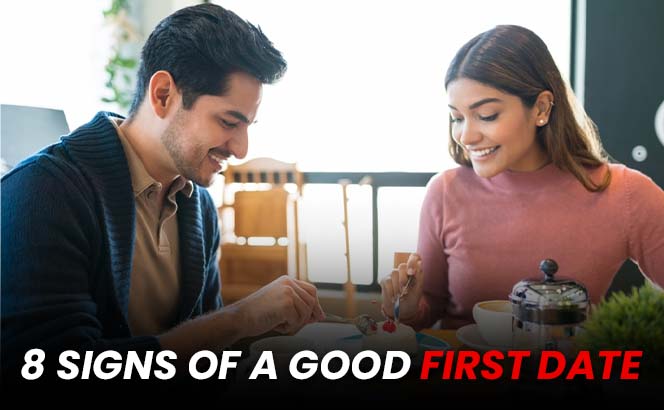 There is no hard and fast rule to having the perfect first date. But there are certainly ways you can tell whether your first date with someone was going to turn into a second and third one soon or whether you should turn around and run. So, let's go through 8 signs of a good first date and maybe you'll know what to look for the next time you meet someone new.
You're Both Present
Let's be honest: vibes never lie.  Rather than trying to give a great first impression of yourself, you should focus on them. Try being vigilant to their overall attitude towards you. And your own attitude towards them. Were you both really into this date? Were you both mentally present?
You made each other laugh
Certainly, a first date that has you rolling over with laughing fits is definitely successful. It could not have been boring for a second. So, grab on to the opportunity to set up the next meeting soon.
You lose track of time
Any good date will have you feel like time has simply flown by. You do not realize this at the start, but as the date comes to an end, and when you pick up your phone to check the time, you end up feeling surprised. When you're actually absorbed in the moment and focused on your date, time, work or anything else does not stress you, and you don't think about anything other than the person you're on a date with.
You feel a deep attraction between each other
Attraction is a the most natural way to figure out whether your first date will go well or not. If your first date has made you feel attracted, and if you're date also feels the same way, there will be sparks flying, and you'll both want to see each other again.
You both dress up
Noticing how pretty someone looks on their first date is a positive sign; it shows that the other person has taken some time out to choose their outfit just for you. This cultivates appreciation and you have a feeling that the person in front of you is aware of their appearance, which is another plus point for all good dates.
You feel you belong together
If there are sparks flying on the first date, it's probably because you both feel connected somehow, and that you belong together. This feeling might come later on as your date proceeds, and being emotionally connected will make sure that both of you might start developing stronger feelings for each other.
There is mutual respect
If you end up talking for hours on different topics that matter the most to you, and you're getting amazing responses from the person in front of you, chances are that you both respect each other, and are well aware of what the other person thinks. This doesn't bother you, and you actually start feeling the real potential of your date, which is definitely a plus.
You feel happy after the date
Feeling happy after just meeting someone can often be misleading; however, it is important to acknowledge that this person makes you feel happy. In an era of spontaneity, we'd advise you not to think too much about this, but rather focus on staying happy! Plan second dates, movie nights, and restaurant takeout's to cultivate happiness for the other person as well.
To sum, it's more about the depth and positivity of your emotions during and after your date rather than the initial, misleading butterflies. And now that you're well aware of the top 8 signs of a good first date, it's time to look for a potential match at shadi matrimony.