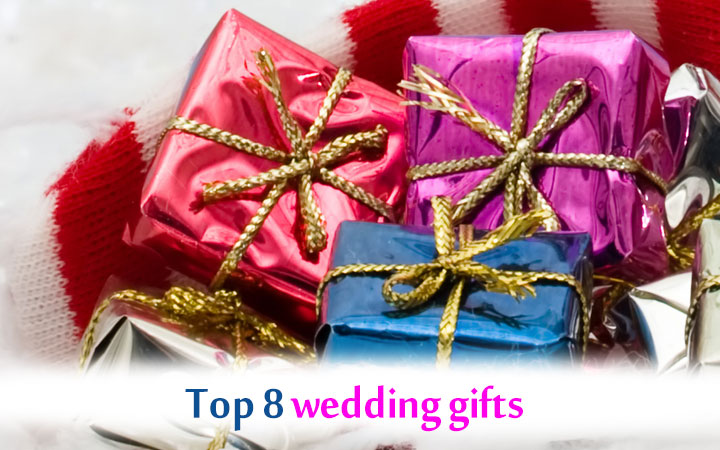 Top 8 wedding gifts suggestions with the wedding season being so close time to buy. You have received the invitation and fully intend to attend the wedding. But you are in a flux about the right gift for the wedded couple. You want it to be unique yet useful and it shouldn't break your bank. It can be a daunting task but not impossible. As most couples use the same things, they need to be picked out carefully. Here is our list of top 8 wedding gifts:
Rosenthal vases:
The Studio line vases are available in miniature sizes and playful shapes. After all they'd love to have elegant set of vases set with the favorite flowers.Shadi
Knife sets and Cutlery:
You can never go wrong with that. All homes need quality cutlery and a set of chef knives. With a host of available sets online, you can even get it delivered.
KitchenAid mixer:
With smaller space to store, gifting the KitchenAid mixer that doubles up as meat shredder, grinder and pasta maker makes more sense.
Premium linen:
If you plan on gifting something useful, take your pick from premium range of towel sets to Egyptian cotton bed sheets. After all, you do need them every day. And having an extra pair might be welcomed.
Wine Tray:
The slotted tray is a rage as it makes it easy to carry the bottle of wine and stems around. You can even add a wine bottle and a set of wine glasses.
Pyrex Easy Grab Bake 'N Store:
These sets are perfect for a newly wedded couple. It does not matter what they cook, baking and storing is easy.
Bar Tools with Ice Bucket Set:
No socializing is complete without the wine and champagne. Gift the set of tongs, bottle opener, strainer, spoon and jigger, perfect for the cocktails.shaadi
Cash and gift cards:
These never go out of fashion. If you don't know what to gift them or have a larger amount to gift them, just gift the couple cash or a gift card. They can use it as they please.