Reasons to Be Grateful to Online Matchmaking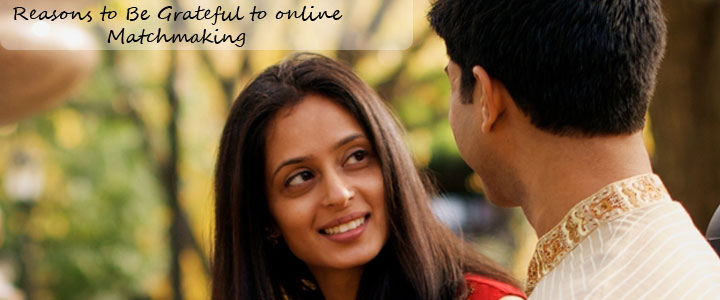 If you are too busy to date, yet want to get married and have a family, you have the reason to be grateful to online matchmaking.By registering at an online portal, you get a chance to tap into a larger pool of potential mates. You have a chance of directly connecting with an aim to get married, which cuts away a host of potential real time dates.Both of you connect with the sole aim of getting married as the larger possibility. If either one of you doesn't see the other as a potential spouse after interacting online, you have hundreds of others to connect with. Some of the reasons to be grateful to online matchmaking are:
Enhances confidence that you will meet the perfect mate and soul-mate.
Helps you connect with people and makes new friends. You connect with many people and only marry one of them, rest can be good friends.
Know more about yourself:  You put things in a perspective and evaluate your likes and dislikes. You introspect and then realize your aims, goals and what you want in life.
Stay positive and be realistic in your search for the right partner.
Instead of meeting shady characters at pubs and dating aimlessly, you have a purpose and aim when you connect at online matchmaking websites. However, to meet the target audience, you need to have a good profile.
Here are some tips to create an attractive profile:
Put a recent photograph with clear view of your face
Write concisely about your likes, dislikes and what you are looking for. Enumerate the qualities you are looking for in your mate.
Be honest when you chat online.
Stay positive and talk with courtesy. The way you project yourself online is your virtual identity and the other person will form an opinion about you accordingly.