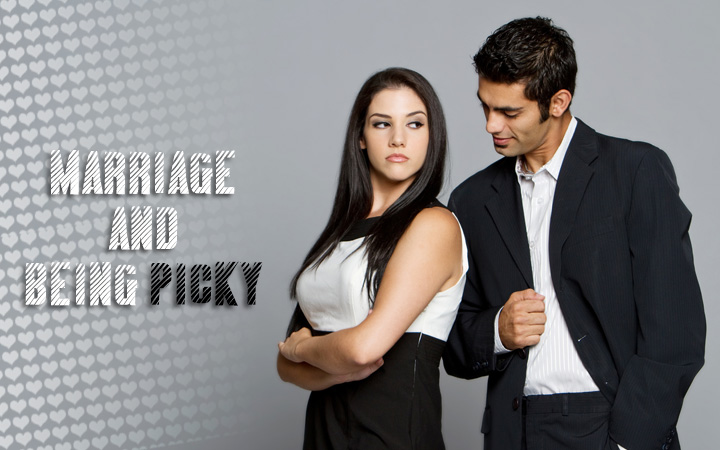 Marriage and being Picky
This blog was written primarily addressed to girls. However as I look at it, our male members can also learn from it. As far as looks being your primary concern. Please see the first minute of this makeup video. A lot of what you are seeing is makeup. So it is important to find other qualities. You want beauty? Send her to a nice parlor and give her money to shop for some nice clothes!
Marriage and being picky relates to some people while looking for life partner. Finding faults with your prospective life partners will not get you married. Marriage is the most important decision of your life. I have to agree you that should not lower your expectations.  Make a list of desirable qualities you want to have in your life partner. It should be a short list not more than five.
No one is perfect everyone has some faults. Its fine to be picky on realistic things but a little compromising will do you no harm. For example, if the guy is 32 years old and you are looking for a match in the age group 27 to 30 it should not matter. If the person under consideration is able to fulfill your must haves he could be your soul mate. Some women have the tendency to look for life partners based on looks. If the guy is too handsome looking, he is going to be admired by many women that means headache for you.
Best advice about marriage and choosing life partner is to select someone who has at least 3 to 4 must have qualities. Here is what you should be looking in your life partner. Good education, humor, politeness, ambition and his attitude towards women. If he does not earn much but has the potential in near future that is fine. A lot of men will have good earning as they progress in their careers. For a good marriage to be successful and a happy one compatibility with each other is the key.
It's okay to be picky about marriage and life partner but not to the extent where you push good potential men away.