ARE YOU REALLY READY TO GET MARRIED? A CHECKLIST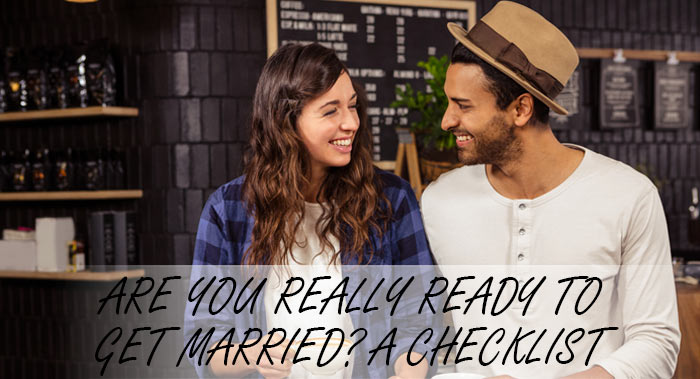 When you look into the eyes of your partner, you should ask yourself "Am I really ready to marry this person?" or better still "Am I ready ready to marry at all?" These questions seem naive but are essential when deciding to settle down. You have worked hard in your chosen field of work and have build a successful life.
What now?
Now, you feel something is missing and you want a life partner to spend the rest of your life with. If you are thinking of getting married understand commitment, honesty, trust and respect for each other are the strong bonds of a good relationship in marriage. You don't want to get married and then start to discover little things that should have pushed you off in the first place. A good home is important in raising children if you've decided with your partner to have some. The children will naturally follow the preset of their parent which begs the question again; would you love to raise other humans- your children- with your partner?Is your state of mind well connected enough to bring children to life and raise them with such a mindset?
Marrying early in the relationship
One mistake couples often make is deciding too early to get married. The decision was simply the influence of temporary happy-hormones. Marriage is more than just the wedding day or the great sex life or the perfect dates with your partner. You should look at everything around you an image if they all go down, will your partner be simple enough? You may not always have that great body he likes so when push comes to shove and your shape changed, do you see this person staying married to you because of your soul and not primarily your physical makeup? His hairline will recede someday or curly hair you love on him won't be possible again, would you still find him attractive enough to call your husband.
There are million and one questions to ask and be answered honestly before getting married. While it is impossible to know it all before marriage, we've helped complied with a simple checklist of 4 basic things to look out for before marriage is concluded.are you ready to get married a checklist
1. Personality Adjustment:
In marriage, there are attitudes that cannot last the test of time. Partners must understand that one of the most important things is bending over for each, knowing that each person's personality will be tweaked before marriage. There are some attitudes you have before marriage that you'll have to drop for your marriage to work.
The important thing in personality adjustment is that the shedding of attitudes in preparation for marriage shouldn't be a one-way thing. It won't work out if just one of the partners are the ones changing while the other remains static. Both partners must be ready to put in the work and prepare a close to perfect mindset and personality adjustment that will give space for the happiness and joy of both partners.are you ready to get married a checklist usa matrimonials 
2. Couple Goals
Marriage means that you have to start thinking for two. If there are children then your thinking must be family-oriented. Couples planning to seal the marriage deal must ensure that they both have to align life goals. This will help to keep the family together. With the family focused on the same goal, it would be much easier to make decisions without hurting the other partner because they'll possibly understand why you have to make such decisions. Their understanding is however based on the fact that you both have a preset of aligning objectives and that your decision is not in any way derailing from such objectives.
3. Finance
Over 70% of marriage discussions will end up on the table of how to finance them. It is important for couples to reach a point of convergence as regards their financial life. First, you both must know what is important to spend on and what is not important. A partner might be more financially savvy than the other, the knowledge of this will require the trust of the non-savvy partner. shadi matchmaking
4. Relationship with Friends and Family
Before you met, you were both in a society of different people most possibly of different cultural backgrounds. When deciding marriage, partners must first properly synchronize both sides of the family. This will make it easier for both of each partner to feel comfortable while with the family of each other. Importantly, partners must decide how they'd like to relate with their family members. How much of the things going on in their marriage they'd like to tell their family, their relationship with friends and everything in between. are you ready to get married a checklist