Are parents better at Matchmaking?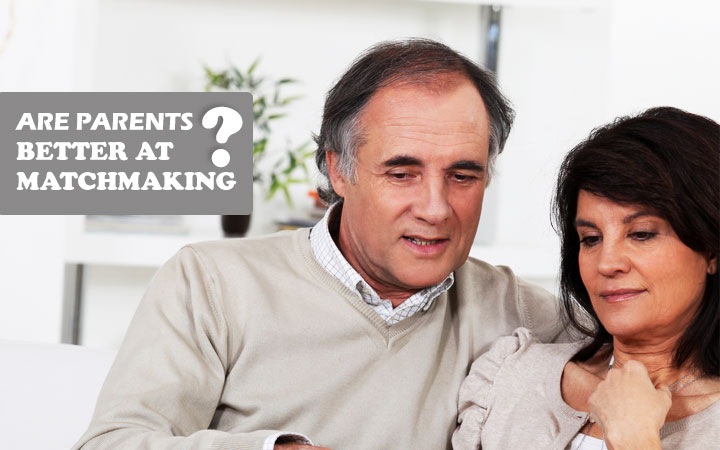 With the changing times, it can get difficult to convince your children that parents are better at matchmaking but in many scenarios it is the best option. There are many instances when children lead busy lives and have no time to find love and companionship. That is one scenario when parents step in as matchmakers. However, convincing your child that you would be able to take better decisions in selecting a partner for them can be a bit tricky at times. However, you can use these tips to further strengthen your arguments on this topic:
 More experience: Your son or daughter cannot deny the fact that you are older and more experienced in the ways of the world. Plus, you understand all aspects of man-woman relationship and can find a groom or bride that would suit your son/daughter and be accepted into the family.
Understands the child: You have brought him or her up and understand his/her likes and dislikes better than anyone. You are in a position to understand his or her flaws and weaknesses and that is why you can look for a spouse for them that can accept them better.
Knows what marriage is all about:  You understand all aspects of marriage, the romance and the adjustments and that is why you can advise them better. You are in a better position to evaluate a groom/bride and their families than what your children can.
A well-wisher always: You want the best for your children and that is why you will evaluate the boy/girl and the families with a better judgement as compared to your son or daughter.
If you want to play an active role in finalizing the boy or the girl for your daughter or son, putting forth these aspects can definitely help convince them that you might make the right choice for them.
Marrying for money, position, citizenship, how far are you willing to go?
When it comes to marriage, each one has own reasons to get hitched. However, it is a fact that not all marriages are based on love but have other ulterior motives and it is possible that the other spouse is not aware of the truth. There are plenty of marriages of conveniences which are conducted as business transaction especially those for foreign citizenship. However, the question remains that will you get married to be rich, get a foreign citizenship or climb up the social ladder quickly? Here are some questions that you need to think about if you are contemplating a short cut to fame and money:
Can he be much older?
Are you willing to be in a relationship and marry a sugar daddy, just to get control over his money even if the age difference is accepted as generation gap? Well, there are plenty of girls that are willing to go that extra mile and ignore the age factor but get rich by marriage. Are you one of them?
Physical attributes
If you are planning to marry to get a citizenship to the dream country or for money and position, do looks count? Are you willing to marry someone with disability or someone that isn't as good looking as you would have liked? You will need to check and see if you are willing to go that far or not.
Family background:
Can you ignore the discrepancies in the family and yet go ahead and marry someone just because you consider it shortcut to power and money? Or does family reputation and background matter to you more than money and power? For some people, values and morals are more important than money while for someone getting rich by marrying into a rich but unscrupulous family is good to go.Shadi Online USA
What about a rich divorcee?
Are you willing to marry a divorcee just because he or she is rich? Many will consider the wealth that they own but can you do that?
Telling the parents you have found a guy.

Now you have a boyfriend and marriage is on the cards. Now how do you tell your parents such that they approve of the match? It is a nerve wrecking situation that might have given you many sleepless nights just thinking about how to break the news. Well, it really isn't as bad as you imagined. Here are some tips to ensure that you get their blessings for the union happily.
 Decide on who gets to know first: Maybe you are closer to one parent or you know you can get his or her support as you break the news to the other parent. This will help even out the situation, especially if you are expecting drama-filled responses.
Have a picture ready to show: They would be more interested in seeing the person you are in love with and their future son-in-law. Ensure that the picture is solo of him or a normal shot of both of you, not a hugging photo where you are all over each other.
Don't start with a negative: They might not be in favor of an inter faith marriage or maybe the age gap is more than they anticipated. Thus, start with the positive aspects and just let out the other aspects that are vital for their knowledge.
Let it not be a surprise: Don't just walk in with him and introduce him. Give them prior information before you introduce him to your parents. It will leave a better impression of him and lesser drama is you are anticipating it. Given them time to assimilate the fact that their daughter has grown–up and can take her own decisions.
Share with them information about his family: This is pertinent for their approval. You will need to be ready to answer millions of questions as they try to gauge the family and boy you love.Are Parents Better at Matchmaking
Well, whether you invite him for tea or over lunch, we hope it goes well for you.