7 Traits – How To Become A Great Life Partner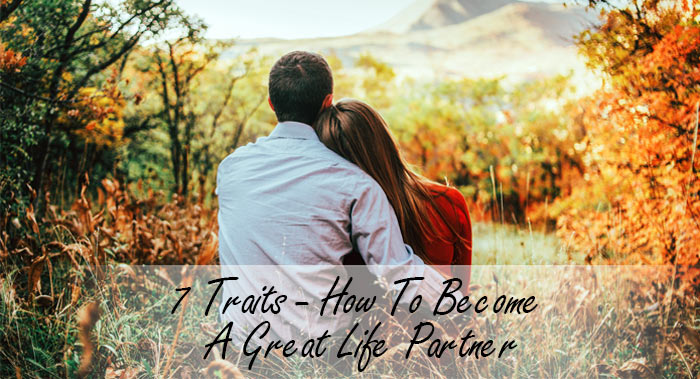 This article looks at traits that you can acquire to become a great life partner. For healthy relationships both partners need to work on mental and emotional capabilities. Loving yourself and being comfortable with who you are gives yourself worth and positivity. Here are 7 helpful traits on becoming a great life partner.
Be a happy person
Having a happy life partner makes everyday life easier for their spouses. They are not stressed about making their partner upset. They have more energy to concentrate on the good things. However, no relationship is great most of the time. But both people should feel good about their relationship most of the time. Good looks fade over time but a good heart and a smiley face keeps you beautiful forever.
Communicate effectively
Talk to your partner and ask questions if you feel something is not right. Be a good listener don't assume things and jump to conclusions. A good life partner is willing to work through problems and disagreements. It is a known fact that problems in relationships do arise, then both parties need to work through the issues for an acceptable solution.
Be appreciative
Nothing will kill a relationship other than the feeling of being taken for granted. Showing appreciation for little things helps to strengthen the bond of relationship with your partner. Try to do something for them whether making dinner or taking part in cleaning the house. Making a conscious effort to show appreciation or saying a few words of gratitude goes a long way for making your partner happy. Be a supportive spouse and feel the difference.
Honesty and trust
A great life partner is honest and trustworthy. Even though the truth can hurt initially, lies hurt more when they are discovered later on. Being truthful and honest with each other is vital in a good relationship. Honesty creates trust while lies can hurt you partner and are harmful to your relationship.
Sense of humor
A great life partner has a sense of humor which is an appealing trait. Being able to laugh together helps to resolve conflicts in relationship and marriage. A good sense of humor can defuse tensions and makes life less challenging. Even in social gatherings humor is a great icebreaker.
Respect for your life partner
Ideal life partners treat each other with respect and gives attention to their needs, concerns and desires. They do not try to be controlling or angry towards each other. A good life partner refrains from judgemental behaviors. They value their wishes and encourages them in their accomplishments with kind words of appreciation. Couples will not always agree on many issues which is fine. Best way forward is to respect each other's views and decisions.
Give space
Spending all your time with life partner is not so great. You need to give personal space to each other to grow. It's best to spend some time with your friends or hobbies or by yourself. Though it's important to do things together at times but it is essential to have some personal space in a relationship.
Shadi matrimony site has many useful articles. From helpful tips on
relationships to searching for a life partner on matrimonial site or conversation starters on your first date. Enjoy your relationship journey and have fun!