6 Signs Should You Marry This Person?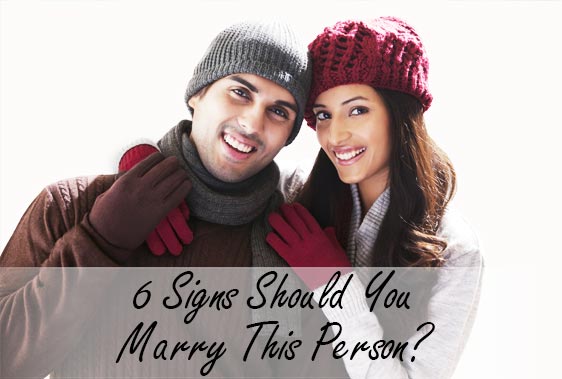 Anytime you join a marriage site, you are not only looking to have a few casual dates. You are joining in order to increase your chances of finding your life partner.USA MatchmakingFinding the partner that you are ready to spend the rest of your life with, which you could interpret as your soul mate if you like.

And, after dating your partner for a long time, you may be ready to take the next step, which is popping the question. Let's talk about the 6 signs that indicate that you are ready to marry the partner of your dreams:
1. If things go wrong, you know you can rely on your partner 
The truth is that life gets tough, and if you are on a marriage site, you are prepared to find someone who you will marry in sickness or in health – or having financial difficulties or difficult in-laws. Because marriage is not all about sunshine and roses. Problems arise and if your partner can be relied on during difficult times that have come up already, then that is a good sign that your partner is marriage material.Shadi
2. You know you can grow together when things do go wrong
Not only does your partner have to show you that they can be reliable when things turn out terribly or when sudden challenges come up. However, when things really go wrong like losing a home, or if you end up having a child with special needs or illnesses, and you still find a way to grow together, then this is a good sign. You may not be aware of what could go wrong now but if you have noticed yourself and your partner growing through difficult situations that have come up during your relationship, then that is a great sign.
3. You are used to your partner's imperfections 
Asyou know that no one is perfect, and you should never go onto a marriage site thinking that you will find a partner that is free of idiosyncrasies. Otherwise, you will become disappointed. If your partner has a habit of chewing loudly or laughing in a way that can be annoying but you have gotten used to it, then that as well is a good sign that you can take the next step.
4. You realize that compatibility is not everything 
There is no one in the world that will be 100% compatible with you. But you will need to hook up with someone who has the same values and the same wants and needs. And, this is something that people do who browse through dating sites, but since you are on this marriage site, you must be aware of this fact. If you feel right with a partner that has the same desires and values as yourself but at the same time your partner prefers to watch comedies and you would rather watch science-fiction movies, but does not care- then that is also a good sign that this partner is the one for life.
5. You can communicate with one another well 
The one problem that many marriages run into is the lack of proper communication. If you and your partner are communicating with one another well, especially about situations that are less than ideal that you both have run into – then that is a great sign that your partner not only can be trusted but will be the one to hook up with for good.6 signs marry the person
6. There is no mystery when it comes to how your partner is feeling
The one thing that indicates that any relationship is strong is that you and your partner will know right away how one another is feeling about any situation. That also means that if your partner is not ready to do something that you are, you will have a gut feeling about that and respect your partner. However, that also means that your partner is also willing to come up with compromises because your partner will know that you won't be happy if the compromise isn't made.
Now, when you are on this marriage site, you again are not looking for just some casual dating. You are looking to hook up with a mate for life and you are ready to take the good, the bad, and the ugly with you because marriage is not always blissful!6 signs marry person Shadi Muslim marriage site