IMPORTANT QUESTIONS TO ASK YOUR POTENTIAL PARTNER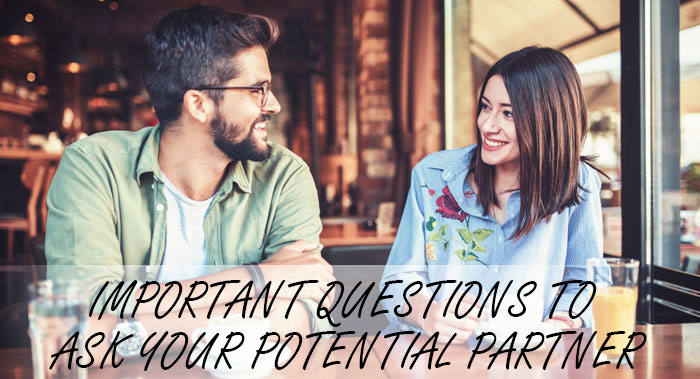 These days many people are turning to online matchmaking sites to find 'the one'. And truth be told, it has worked in favor of many people. It is always better to ask important questions from your potential partner. Before starting a relationship with someone you meet on matrimonial site, there are important questions that you should ask. Finding out the truth about a potential partner before you commit to them will help to minimize surprises and disappointments along the way. Here are some of the questions you should ask.
1. What do you want from a relationship? Many people don't think that this question is necessary, but it is actually one of the first things you should ask once you and the other person begins to talk often. Not everyone is looking to have a long-term relationship. Some people simply want something casual and are not ready to get serious with anyone.
2. What on my profile attracted you to me?The answer you get will help you determine what their intentions are. You will be able to know if they just want to have fun or get into an actual relationship. If the person's answer doesn't quite match with what you have on your profile, then know that they never read the profile. You can decide whether or not you want to continue talking to them after that.
3. Where does Your Family live? How often do you visit them? Most people are family oriented and would love to tell you about their family. If the case is different, you need to be sure that you are okay with their perspective. You should, however, know that the person's take on family will affect your potential future together.
4. Are you Religious?If you are a religious person, you may likely want to end up with a person like you who also believes in the existence of God. It is advisable to apply tact when asking this question as it is a touchy topic for some people. But you sure have a right to know what you are about to get into.
5. What are you passionate about? There's no happy ending for two people who think differently and want completely different things. While you may not share the same passion, you need to be sure that you are willing to support them on the course and help them achieve their dreams. Their passion should appeal to you before you begin to plan for the future.

When asking these questions, ensure that you do not make the other person uncomfortable. Don't force them to talk when they don't want to. Respect their views on the subject and if their response doesn't sit well with you don't try to change what they think. They have a right to make a choice and so do you.