Discuss Financial Issues before Marriage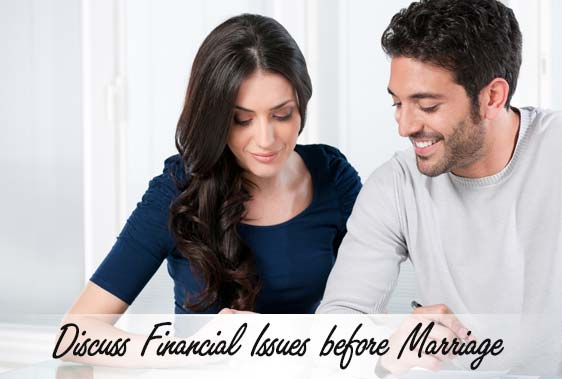 The smartest move is discussing financial issues before marriage and being honest about them with your partner. Marriage is not just an emotional bond between two individuals. But also an agreement that the two partners have to work on this relationship. Without enough financial resources or settling these issues before marriage, people could later on get into fights. Especially when practical life is comes upon them suddenly. This is the reason why Shadi matrimonial, one of the biggest matrimonial site, emphasizes on settling the issues related to finances beforehand. Once a person gets married, the most challenging situation faced by him is related to spending and finances.
What can you do?
Shadi matrimonial provides a platform to choose a person with a professional choice of your own. Complete information about the financial background should be provided. So that  there are no problems by both of the partners after marriage. Some people don't consider it important to check on their separate financial status or talk about the future responsibilities in this regard simply because they love and trust each other under all conditions but it is not a mature thing to do. Although love, trust, and compromise are the essence of a marriage. But practical decisions are important as well.
Before getting involved into a lifelong relationship, couple must decide about their bank accounts and spending. And also about the part both of them are going to share to fulfill the mutual financial needs. This is the main reason why Shadi matrimonial requires financial career information from its users.
Some people consider it be materialism to discuss finances but once you get into practical life, it would become quite clear that it is not materialism rather a mature and practical decision which must be taken in order to earn a secure and happy future for the marriage. The life after marriage with utility bills, medical expenses, groceries, and the expenses on birth of kids and their upbringing. So seem a little bit easier if there are no financial matters.