Conversation Starters On Your First Meeting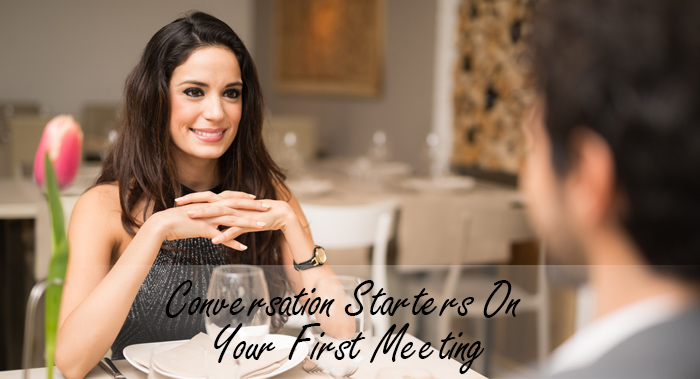 Conversation Starters On Your First Date
When you join our Shadi matchmaking site you are looking to find the best match for you that you will be spending the rest of your life with. And, you may be wondering how to approach your first date when the time comes. Instead of you worrying about what things to say to your first date, here are some conversation starter ideas you can utilize so you will have an easier time finding something to begin talking about: conversation starters on your frst meeting
However, because of your age, you are concerned that there are not that many fish in the sea. That is compared to how many are available to singles that are in their 20's and 30's. But here is the good news. Just because you are in your 40's and looking for your lifelong partner does not at all mean that it won't happen. Plenty of singles that are older end up finding their perfect matches whether it is through our Shadi matrimonial site or elsewhere. That means you must not assume that you won't be lucky either!.USA Singles Matrimony. Yet, at the same time, there are some important tips to utilize when you are looking for your lifelong partner when you are in your 40's in order to make marriage a strong possibility in your future:
1. Ask about their job
It is natural to ask your date about what they do for a living and ask them how they enjoy doing their work. The one topic to avoid at all costs, however, is their salary. If you ask about the salary, then it will appear that you will not form a relationship with them unless they are earning a certain amount of income. That is the last thing you will want to bring up!
2. Don't lie and make anything up
As you know, the reason you went onto our Shadi matchmaking site is to find your partner that you will be spending the rest of your life with. However, always be honest, don't lie about anything on your first, third, or one-hundredth date! Don't tell your date something that is untrue in order to impress them because the truth always comes out one way or another. If there is something about your life that you are not happy about such as not finishing school and you don't want to share, then you don't have to discuss anything you choose not to on the first date. But if you do end up forming a relationship with the individual you are out with, then you will have to be frank about what is happening in your life no matter how unpleasant it may be!
3. You can talk about prior relationships but not about the ex
It is quite fine to talk about your previous relationships on your first date as your date may even ask you about it. However, don't start talking about your ex in great detail or else that will only make your date uncomfortable.
4. Don't say anything negative about yourself
The one thing that you will want to do on your first date is to appear confident. Because if you start talking about yourself in a negative light, then your date will be turned off. You can talk about your regrets another time such as not finishing school or passing a particular course. Or, if you do decide to be upfront about your regrets right away, don't start telling your date that you are an idiot or that you are stupid. Conversation Starters On Your First Date conversation starters on your frst meeting
5. Don't brag about anything
Just like you don't want to say negative things about yourself, you don't want to brag about anything either. That will only make you appear narcissistic and that is a huge turn off for your date. If your date says that they enjoyed spending their vacation somewhere in Europe but you have been on 5 different continents including that expensive cruise you took to Antarctica, you can mention that. However, do not brag about your extensive travels either because that will only make your date feel bad!
How that you have a good idea of what kind of conversation starters you can use, then you will have an easier time connecting with your potential partner that you had found through our Shadi matrimonial site.Conversation Starters On Your First Date Good luck! conversation starters on your first meeting